Craft Lake City's DIY Festival Continued:
Kids Recycled Crafts!
Momentum Recycling is proud to participate again this year in Craft Lake City's DIY Festival, which is celebrating its 10th year this year!  At our booth in the STEM Building (Gallivan Center), kids of all ages can make art from recycled glass!  If you didn't get a chance to make it to the event this year, no worries – below are 5 recycled crafts projects you can do at home (click the image for instructions).  Enjoy!
(1) Bird Feeder
(2) Water Bottle Fish
(3) Toilet Paper Roll Helicopter
(4) Tin Can Planters
(5) Egg Carton Crafts
https://utah.momentumrecycling.com/wp-content/uploads/2018/08/DIY-Home-Activity_Helicopter.jpg
386
400
Momentum
https://utah.momentumrecycling.com/wp-content/uploads/2018/12/Momentum-Logo-2018.png
Momentum
2018-08-06 13:09:34
2018-08-06 13:16:23
Kids Recycled Crafts (DIY Festival)
https://utah.momentumrecycling.com/wp-content/uploads/2018/06/2018_Pride-Parade_1.jpg
1080
1080
Momentum
https://utah.momentumrecycling.com/wp-content/uploads/2018/12/Momentum-Logo-2018.png
Momentum
2018-06-15 13:38:41
2018-08-06 13:17:36
Momentum Recycling Has Pride!
We are proud to announce a new partnership with the city of Pocatello, Idaho!  Residents can now recycle their glass at 1 of 10 locations around the area.  The glass collected will be transported to Momentum Recycling's glass recycling facility in Salt Lake City to be processed.
Below is the full press release:
May 30, 2018
FOR IMMEDIATE RELEASE
CONTACT: Debbie Brady, Recycling Coordinator, at 208-234-6163
Glass Recycling Begins June 4 in Pocatello
Starting June 4, Pocatello residents will be able to recycle glass in the Gate City.
Recently, the City of Pocatello Sanitation Department partnered with Momentum Recycling. Under the agreement,
residents can drop off approved glass items at one of ten dumpsters placed around the community. City crews will
pick up the dumpsters and deposit the glass at a holding area. After that, Momentum will take the glass to their
facility in Salt Lake City.
"Glass recycling is one of the most requested services by residents," said Debbie Brady, Recycling Coordinator with
the City of Pocatello Sanitation Department. "We're thrilled to be able to offer this program to the community."
"At Momentum Recycling, we are committed to diverting as much glass as possible from the waste stream and
seeing it recycled into new products," said John Lair, President and Chief Executive Officer of Momentum
Recycling. "Our partnership with the City of Pocatello is very exciting, as hundreds of tons of glass each year will
now have a new life as useful consumer products."
A list of approved items can be found at pocatello.us/DocumentCenter/View/4623. Porcelain, ceramics,
automotive, mirrors, and light bulbs will not be accepted. Residents are asked not to place glass items into their
blue, recycling autocarts. The locations with containers are:
Sister City Park Area – Pocatello Creek Road
Portneuf Wellness Complex/Fairgrounds – 2375 Olympus Drive
City Hall – 911 N. 7th Avenue
Ridley's on Main – 911 N. Main Street
Albertson's – 330 E. Benton Street
Union Pacific Railroad Parking Lot – Near the Old Town Bark Park
Idaho State University – Holt Arena Area
Costco – 305 W. Quinn Road
Western Recycling – 3034 Garret Way
Bannock County Landfill – 1500 N Fort Hall Mine Road
Officials estimate that 240 tons of glass will be kept out of the landfill each year. Recycled glass can be used for
making fiberglass insulation, bottles, bricks, and sandblast media.
The City is holding a ribbon cutting with the Pocatello Chiefs Monday, June 4 at 11 a.m. in the Pocatello City Hall
parking lot to officially kick off the glass recycling program.
For more information on the City of Pocatello Sanitation Department, visit pocatello.us/sanitation.
https://utah.momentumrecycling.com/wp-content/uploads/2018/07/Pocatello-Glass-Recycling_1.jpg
478
639
Momentum
https://utah.momentumrecycling.com/wp-content/uploads/2018/12/Momentum-Logo-2018.png
Momentum
2018-06-06 15:32:57
2018-07-06 15:46:59
Glass Recycling Begins In Pocatello
https://utah.momentumrecycling.com/wp-content/uploads/2018/02/KUTV-2-News-Coverage-of-DABC-Location_2.5.18.png
1026
1824
Momentum
https://utah.momentumrecycling.com/wp-content/uploads/2018/12/Momentum-Logo-2018.png
Momentum
2018-02-06 09:43:13
2018-02-09 14:19:22
1st EVER Glass Recycling Location at DABC Site
The below article was written by Momentum Recycling "Amglassador" Nate Keyes:
In an age where society uses smartphone apps daily, why is it that we are not paying more attention to the plethora of apps that can help us go green? Whether it be basic recycling tips, measuring your carbon footprint, or reducing your consumption, there is an overwhelming number of apps to help you live a more sustainable life. It can be a challenge to figure out where to start, which is why we compiled this list of the best tried-and-true environmental apps out today!
   GoodGuide
GoodGuide grants you one of the necessary skills for sustainable living: the ability to be proactive. Don't get greenwashed – finding the most environmentally-friendly products and companies is now as simple as scanning a barcode. GoodGuide's scientists rate food, personal care, and household products based on their health value, environmental impact, and social impact.  – Available for both Android and iOS.
   Carma Carpooling
Carma Carpooling pairs up users with overlapping commutes, helping to reduce emissions and even save money on gas! If you can't walk, bike, or catch public transit, but you can't bear the thought of driving a car for one every day, Carma Carpooling is the app for you. Pick up a passenger traveling somewhere on your route and they'll contribute to the cost of the commute, or vice versa, use the app to find a driver heading your direction and pitch some gas money.  – Available for both Android and iOS.
   iRecycle
From the creators of Earth911, iRecycle lets users find recycling locations on the go or right here in Salt Lake City. The app provides info on where to drop off those hard-to-recycle items as well, exposing 1,600,000 ways to recycle over 350 materials in the United States.  – Available for both Android and iOS.
   Dropcountr
Dropcountr connects to your water utility company and helps users conserve water at home and at the office! Your utility company can send you drought and water budget messages, as well as notify you of a leak. See how much water you and your neighbors use, engaging in friendly competition to see who can conserve the most (hint: the winner saves the most money too!). Unfortunately, Salt Lake City Water Department has yet to partner with Dropcountr, but the company wants to make your voice heard. Here's what you can do: download the app, enter your zip code, and Dropcountr will have a request form ready to send directly to your water utility company.  – Available for both Android and iOS.
   PaperKarma
PaperKarma is the go-to app for dealing with junk mail & unwanted catalogs. It is totally worth your time to download this app and cut down on the mail you've repeatedly received and recycled. Simply enter your name & address in the app, then snap a photo of the company's info on the piece of junk mail you received. In about 24-hours, PaperKarma will unsubscribe you.  – Available for Android and iOS.
   Oroeco
Oroeco is creating an interactive platform for users to see how their everyday spending, investment, and lifestyle choices affect the world around us. Check out their video: the app lets you track everything in your life from traveling to eating habits, calculates the carbon footprint (with the help of UC Berkeley), and encourages you to reduce your environmental impact by competing with other users for rewards.  – Available for Android and iOS.
   #climate
#climate (pronounced "Hashtag Climate") helps users discover current environmental movements and share how to get involved. Even better, users can indicate which topics or locations they're passionate about and the app will curate a list of customized actions to tackle those issues. Download #climate to stay updated on the fight to protect Utah's National Monuments, and other campaigns, all through real time info gathered from trusted environmental organizations (and check out their video).  – Available for iOS.
Know of an app that we didn't include? – Let us know in the comments below!
https://utah.momentumrecycling.com/wp-content/uploads/2017/12/iRecycle-App-Icon.png
300
300
Momentum
https://utah.momentumrecycling.com/wp-content/uploads/2018/12/Momentum-Logo-2018.png
Momentum
2018-01-02 08:15:41
2018-01-12 14:57:41
7 Eco-Friendly Apps You Should Be Using
The below article was written by Momentum Recycling "Amglassador" Nate Keyes:
Who are those people knocking on doors in reflective vests? What could they possibly be trying to sell us now? And why are they always on their phones? These are all common questions that run through the minds of Salt Lake City residents as they see Momentum Recycling's Community Outreach Specialists out in their neighborhood. From one resident to another, I'm here to remind you why we interrupted that Monday night dinner.
Essentially, the job is to sell Momentum Recycling's residential service, that is, residents' very own 35-gallon glass recycling bin to be emptied monthly. Call it a cliché, but a Community Outreach Specialist does so much more. Tasked with the responsibility to educate our community on how to best recycle their glass, but equipped with the ability to downsize one's garbage, residents are always in for a pleasant surprise when they answer their door. "How would you like to save a few extra dollars on your next garbage bill?" is not usually what people expect to hear from the "salesperson" at their front door.
This year alone, our canvassing efforts helped 432 residents sign up for the curbside glass recycling program, as well as saved 608 people between $39 and $87 on their annual garbage bill by downsizing the size of their trash can. These glass signups will help to divert thousands of pounds of glass from entering our Salt Lake County landfills each year.
For this year's outreach campaign, we started using a mobile app so to be 99% paperless, which has proved to be not only the right choice environmentally, but also convenience-wise. With our mobile app, signing up for glass recycling and/or downsizing one's garbage is as swift as the tap of a button!
However, going door-to-door in a city like Salt Lake isn't always easy. Hilly streets, uninterested and even annoyed homeowners (sorry we caught you at a bad time!), extreme heat and bad air quality days are all barriers to a productive day. Despite the periodic struggles, the Community Outreach Specialist Team is too passionate about solidifying glass recycling as a normalcy in our community to let these obstacles stand in their way!
How to encourage your neighbor to recycle their glass: remember to highlight not only the benefits they will receive, but the good they will be doing for the local community as well. Because it's a service that will make their lives easier, but at the end of the day, their commitment to recycling glass creates jobs, saves money, and reduces pollution in our community. If there's one thing we have learned from going door-to-door, it's that residents don't like to pay for something that's not absolutely necessary. But here's the catch: when homeowners downsize their garbage bin, the savings they receive can actually more than offset the price of the curbside service!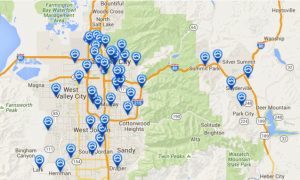 However, if your neighbor still isn't sold on the convenience of their own bin, make sure to emphasize that they can still recycle their glass for free. Direct them to any number of our public drop-off locations, where they can find the location closest to their home, on their commute, or even on a lazy day at the park.
Here at Momentum Recycling, we strive to be at the forefront of both operations and outreach. Although canvassing has proven successful, we are always open to suggestions for alternative methods of spreading the word on glass recycling. Moreover, we're working on bringing a few new ideas to fruition that will be sure to wow you. Stay tuned for updates!
Want to get involved? – – Great!  Please check out our jobs + opportunities for more info.
https://utah.momentumrecycling.com/wp-content/uploads/2016/01/4-Residential-Services.jpg
730
730
Momentum
https://utah.momentumrecycling.com/wp-content/uploads/2018/12/Momentum-Logo-2018.png
Momentum
2017-12-05 14:19:07
2017-12-05 14:22:32
Community Outreach Summary 2017