The below article was written by Momentum Recycling "Amglassador" Nate Keyes:
Who are those people knocking on doors in reflective vests? What could they possibly be trying to sell us now? And why are they always on their phones? These are all common questions that run through the minds of Salt Lake City residents as they see Momentum Recycling's Community Outreach Specialists out in their neighborhood. From one resident to another, I'm here to remind you why we interrupted that Monday night dinner.
Essentially, the job is to sell Momentum Recycling's residential service, that is, residents' very own 35-gallon glass recycling bin to be emptied monthly. Call it a cliché, but a Community Outreach Specialist does so much more. Tasked with the responsibility to educate our community on how to best recycle their glass, but equipped with the ability to downsize one's garbage, residents are always in for a pleasant surprise when they answer their door. "How would you like to save a few extra dollars on your next garbage bill?" is not usually what people expect to hear from the "salesperson" at their front door.
This year alone, our canvassing efforts helped 432 residents sign up for the curbside glass recycling program, as well as saved 608 people between $39 and $87 on their annual garbage bill by downsizing the size of their trash can. These glass signups will help to divert thousands of pounds of glass from entering our Salt Lake County landfills each year.
For this year's outreach campaign, we started using a mobile app so to be 99% paperless, which has proved to be not only the right choice environmentally, but also convenience-wise. With our mobile app, signing up for glass recycling and/or downsizing one's garbage is as swift as the tap of a button!
However, going door-to-door in a city like Salt Lake isn't always easy. Hilly streets, uninterested and even annoyed homeowners (sorry we caught you at a bad time!), extreme heat and bad air quality days are all barriers to a productive day. Despite the periodic struggles, the Community Outreach Specialist Team is too passionate about solidifying glass recycling as a normalcy in our community to let these obstacles stand in their way!
How to encourage your neighbor to recycle their glass: remember to highlight not only the benefits they will receive, but the good they will be doing for the local community as well. Because it's a service that will make their lives easier, but at the end of the day, their commitment to recycling glass creates jobs, saves money, and reduces pollution in our community. If there's one thing we have learned from going door-to-door, it's that residents don't like to pay for something that's not absolutely necessary. But here's the catch: when homeowners downsize their garbage bin, the savings they receive can actually more than offset the price of the curbside service!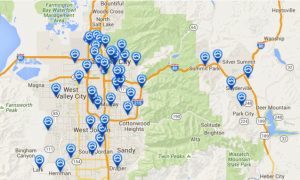 However, if your neighbor still isn't sold on the convenience of their own bin, make sure to emphasize that they can still recycle their glass for free. Direct them to any number of our public drop-off locations, where they can find the location closest to their home, on their commute, or even on a lazy day at the park.
Here at Momentum Recycling, we strive to be at the forefront of both operations and outreach. Although canvassing has proven successful, we are always open to suggestions for alternative methods of spreading the word on glass recycling. Moreover, we're working on bringing a few new ideas to fruition that will be sure to wow you. Stay tuned for updates!
Want to get involved? – – Great!  Please check out our jobs + opportunities for more info.
https://utah.momentumrecycling.com/wp-content/uploads/2016/01/4-Residential-Services.jpg
730
730
Momentum
https://utah.momentumrecycling.com/wp-content/uploads/2018/12/Momentum-Logo-2018.png
Momentum
2017-12-05 14:19:07
2017-12-05 14:22:32
Community Outreach Summary 2017
As of the start of May 2017, mixed recyclables collected from organizations participating in Momentum Recycling's business services program have been going to Waste Management's Material Recovery Facility (MRF) located in South Jordan, Utah. We feel strongly that this new path for your mixed recyclables will ensure greater capture rates while allowing us to have a more constructive dialogue about what can and can't be recycled.
A quick update about items that are accepted in the mixed recyclables stream: plastic coated containers are okay to place in your blue bins. However, plastic bags and plastic film are still not considered acceptable items and neither is shredded paper (regardless of whether it is contained in bags).
Don't hesitate to contact us with any questions you might have regarding acceptable items or our new partnership with the Waste Management MRF!
https://utah.momentumrecycling.com/wp-content/uploads/2017/06/Squatters_2.00_05_27_00.Still006.jpg
1080
1920
Momentum
https://utah.momentumrecycling.com/wp-content/uploads/2018/12/Momentum-Logo-2018.png
Momentum
2017-06-08 10:16:22
2017-06-08 10:19:11
Momentum has a New Destination for Mixed Recyclables
The below article was written by Momentum Recycling "Amglassador" Zach Green:
Momentum Recycling started back in 2008 with one goal in mind, to help communities move towards zero waste. This ambitious goal is coming to fruition as more businesses and residents continue to sign up for our recycling services, including glass recycling, mixed recycling and food waste. As Momentum Recycling has grown, we continually strive to find better ways to serve the community and protect the environment (air quality in particular). One way we're doing this is through the help of route optimization and sequencing solutions.
As residents of the Salt Lake Valley, we're well aware of air quality concerns and take the health of the environment very seriously. According to UCAIR, vehicles account for nearly 1/2 of winter workday emissions and are the primary source for the air pollutant PM2.5. This harmful pollutant is known to exacerbate the side effects of those living with asthma and COPD1.
What role do routing solutions play? – As a business, serving thousands of customers a week is no small task and performing each route by memory can lead to missed bin pick-ups and inefficient navigation. Through the help of route planning and optimization techniques, we are able to plan the most efficient routes possible to reduce the amount of drive time it takes to perform services and in turn the amount of emissions produced by our trucks (which mainly run on natural gas). Examples of these route changes include not performing U-turns, avoiding left turns (like UPS does as well), avoiding traffic congestion, and setting alerts for hard acceleration. By simply taking the time to implement routing solutions to plan our routes, we're capable of reducing route time by nearly 35%, resulting in a significant decrease in fuel consumption and total CO2 emissions.
The growth of Momentum Recycling has provided even more opportunities to help communities move towards zero waste. The integration of routing software will not only allow us to better serve our customers but it will also help minimize our carbon footprint. As a business, both of these things are of utmost importance.
Sources:
1. "Air Pollution and Public Health in Utah." UtahAir – Particulate Matter. Utah Department of Health, n.d. Web. 08 Mar. 2017.
2. "Sources of Emissions." UCAIR. UCAIR, n.d. Web. 08 Mar. 2017.
https://utah.momentumrecycling.com/wp-content/uploads/2017/03/800.SideloaderKann.jpg
3000
4000
Momentum
https://utah.momentumrecycling.com/wp-content/uploads/2018/12/Momentum-Logo-2018.png
Momentum
2017-03-14 14:13:56
2017-03-14 14:17:05
Improving Service & Conserving Fuel Through Route Optimization

Grants Awarded to Expand Electric Vehicle Use in Utah
SALT LAKE CITY – Electric vehicle (EV) usage and compressed natural gas (CNG) equipment and infrastructure is expanding in Utah thanks to grants the Department of Environmental Quality's Division of Air Quality (DAQ) awarded to numerous entities, including this year's grants awarded to Momentum Recycling, the Utah Office of Energy Development, and Salt Lake City Corporation.
DAQ announced today it has awarded a total of $350,000 in grants from the Clean Fuels Grant Program established by the Utah State Legislature to help three entities purchase EV and CNG vehicles and expand CNG refueling stations along the Wasatch Front.
"I'm very pleased to be able to provide businesses and government agencies with funding to expand alternative fuel vehicles in Utah," said Alan Matheson, executive director of the Utah Department of Environmental Quality. "This program advances the Division of Air Quality's on-going effort to encourage cleaner transportation choices that lead to better air quality."
One of the grant recipients, Momentum Recycling, will use the grant to purchase two natural gas refuse trucks and natural gas refueling equipment. "This project is an example of Momentum Recycling's long-term commitment to the environment through our recycling and waste reduction initiatives while using clean fuels," said Jeff Whitbeck, owner of Momentum Recycling.
Those awarded grants are as follows:
Momentum Recycling: $175,499 for natural gas refueling equipment and $40,875 for natural gas refuse trucks.
Utah Office of Energy Development: $70,000 grant for 60 EV charging ports to be installed throughout the state.
Salt Lake City Corporation: $39,626 grant to purchase five EVs and $24,000 to purchase three charging stations.
For more information, visit: www.cleanfuels.utah.gov.
About DEQ: Established in 1991, the Utah Department of Environmental Quality's (DEQ) mission is to safeguard and improve Utah's air, land and water through balanced regulation. DEQ implements state and federal environmental laws and works with individuals, community groups and businesses to protect the quality of Utah's air, land and water. For more information, visit www.deq.utah.gov or call 1-800-458-0145.
https://utah.momentumrecycling.com/wp-content/uploads/2017/02/Clean-Air-Grant_02.08.17.jpg
1064
1918
Momentum
https://utah.momentumrecycling.com/wp-content/uploads/2018/12/Momentum-Logo-2018.png
Momentum
2017-02-28 22:31:27
2017-02-28 22:31:27
Momentum Recycling Awarded Clean Fuels Grant
https://utah.momentumrecycling.com/wp-content/uploads/2017/02/FP-PR-Momentum-540-Small.jpg
1001
1500
Momentum
https://utah.momentumrecycling.com/wp-content/uploads/2018/12/Momentum-Logo-2018.png
Momentum
2017-02-16 09:40:02
2017-02-16 09:40:02
Press Release: Grand Opening of Colorado Glass Recycling Facility
The below article was written by Momentum Recycling "Amglassador" Ryan Goforth:
Increasing Recycling in Salt Lake City
A new Salt Lake City ordinance that passed on December 8th, 2015 is requiring businesses and multi-family complexes that produce 4 or more cubic yards of waste per week to recycle.
The reason for the ordinance is that businesses and multi-family residences produce half of all waste in Salt Lake City but only recycle 10-15% of that waste. This ordinance capitalizes on a huge opportunity to reduce the amount of waste in our landfills and recover important resources that would otherwise have to be mined from the Earth. Once the ordinance was enacted, waste haulers had 6 months to become authorized, while business and multi-family complexes will have 2 years to start recycling. After those 2 years when recycling among these businesses and residences becomes widespread, it is estimated that more than 20,000 tons of recyclable material will be kept out of Salt Lake landfills. This will help to increase the life of an already stressed system of landfills across the valley.
The ordinance states that these recycling services must be easy to access for customers and tenants so as to make sure that landlords and businesses cannot circumvent the ordinance. However, commercial properties without enough space for a bin can request to be reasonably excluded.
Certain representative groups for commercial properties are concerned about the ordinance and feel that it will put stress on their budget by forcing them to make renovations to their properties, costing them money. Another reason that commercial properties might not be inclined to recycle is because trash disposal rates are very low for Salt Lake City. Low waste disposal costs incentivize people to send more to the landfill rather than to recycle.
However, the long-term savings of increasing recycling would eventually make up for any short-term costs that might incur. Even though tipping fees are relatively cheap currently, they do add up over time, especially with a large amount of waste. When commercial properties are required to recycle, they will send less to the landfill and so be charged less in the long run.
This ordinance is a positive step in the right direction toward creating a more sustainable city and making Salt Lake a more appealing place to live. I hope that in the future Salt Lake will continue to be a champion for recycling and continue the move toward zero waste!
https://utah.momentumrecycling.com/wp-content/uploads/2016/08/Business-Multi-Family-Ordinance.gif
600
600
Momentum
https://utah.momentumrecycling.com/wp-content/uploads/2018/12/Momentum-Logo-2018.png
Momentum
2016-09-08 08:33:05
2017-01-24 12:40:12
Increasing Recycling in Salt Lake City