7 Eco-Friendly Apps You Should Be Using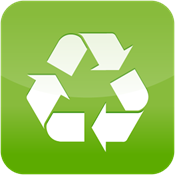 The below article was written by Momentum Recycling "Amglassador" Nate Keyes:
In an age where society uses smartphone apps daily, why is it that we are not paying more attention to the plethora of apps that can help us go green? Whether it be basic recycling tips, measuring your carbon footprint, or reducing your consumption, there is an overwhelming number of apps to help you live a more sustainable life. It can be a challenge to figure out where to start, which is why we compiled this list of the best tried-and-true environmental apps out today!
   GoodGuide
GoodGuide grants you one of the necessary skills for sustainable living: the ability to be proactive. Don't get greenwashed – finding the most environmentally-friendly products and companies is now as simple as scanning a barcode. GoodGuide's scientists rate food, personal care, and household products based on their health value, environmental impact, and social impact.  – Available for both Android and iOS.
   Carma Carpooling
Carma Carpooling pairs up users with overlapping commutes, helping to reduce emissions and even save money on gas! If you can't walk, bike, or catch public transit, but you can't bear the thought of driving a car for one every day, Carma Carpooling is the app for you. Pick up a passenger traveling somewhere on your route and they'll contribute to the cost of the commute, or vice versa, use the app to find a driver heading your direction and pitch some gas money.  – Available for both Android and iOS.
   iRecycle
From the creators of Earth911, iRecycle lets users find recycling locations on the go or right here in Salt Lake City. The app provides info on where to drop off those hard-to-recycle items as well, exposing 1,600,000 ways to recycle over 350 materials in the United States.  – Available for both Android and iOS.
   Dropcountr
Dropcountr connects to your water utility company and helps users conserve water at home and at the office! Your utility company can send you drought and water budget messages, as well as notify you of a leak. See how much water you and your neighbors use, engaging in friendly competition to see who can conserve the most (hint: the winner saves the most money too!). Unfortunately, Salt Lake City Water Department has yet to partner with Dropcountr, but the company wants to make your voice heard. Here's what you can do: download the app, enter your zip code, and Dropcountr will have a request form ready to send directly to your water utility company.  – Available for both Android and iOS.
   PaperKarma
PaperKarma is the go-to app for dealing with junk mail & unwanted catalogs. It is totally worth your time to download this app and cut down on the mail you've repeatedly received and recycled. Simply enter your name & address in the app, then snap a photo of the company's info on the piece of junk mail you received. In about 24-hours, PaperKarma will unsubscribe you.  – Available for Android and iOS.
   Oroeco
Oroeco is creating an interactive platform for users to see how their everyday spending, investment, and lifestyle choices affect the world around us. Check out their video: the app lets you track everything in your life from traveling to eating habits, calculates the carbon footprint (with the help of UC Berkeley), and encourages you to reduce your environmental impact by competing with other users for rewards.  – Available for Android and iOS.
   #climate
#climate (pronounced "Hashtag Climate") helps users discover current environmental movements and share how to get involved. Even better, users can indicate which topics or locations they're passionate about and the app will curate a list of customized actions to tackle those issues. Download #climate to stay updated on the fight to protect Utah's National Monuments, and other campaigns, all through real time info gathered from trusted environmental organizations (and check out their video).  – Available for iOS.
Know of an app that we didn't include? – Let us know in the comments below!
https://utah.momentumrecycling.com/wp-content/uploads/2017/12/iRecycle-App-Icon.png
300
300
Momentum
https://utah.momentumrecycling.com/wp-content/uploads/2018/12/Momentum-Logo-2018.png
Momentum
2018-01-02 08:15:41
2018-01-12 14:57:41
7 Eco-Friendly Apps You Should Be Using