Tag Archive for:
Salt Lake County
https://utah.momentumrecycling.com/wp-content/uploads/2019/11/REDO_Volunteer-Group-for-Bin-Labeling.jpg
810
1080
Momentum
https://utah.momentumrecycling.com/wp-content/uploads/2018/12/Momentum-Logo-2018.png
Momentum
2019-12-10 08:30:07
2019-11-15 14:42:48
Recycling Improves Thanks to Eagle Scout
The below article was written by Momentum Recycling "Amglassador" Nate Keyes:
Who are those people knocking on doors in reflective vests? What could they possibly be trying to sell us now? And why are they always on their phones? These are all common questions that run through the minds of Salt Lake City residents as they see Momentum Recycling's Community Outreach Specialists out in their neighborhood. From one resident to another, I'm here to remind you why we interrupted that Monday night dinner.
Essentially, the job is to sell Momentum Recycling's residential service, that is, residents' very own 35-gallon glass recycling bin to be emptied monthly. Call it a cliché, but a Community Outreach Specialist does so much more. Tasked with the responsibility to educate our community on how to best recycle their glass, but equipped with the ability to downsize one's garbage, residents are always in for a pleasant surprise when they answer their door. "How would you like to save a few extra dollars on your next garbage bill?" is not usually what people expect to hear from the "salesperson" at their front door.
This year alone, our canvassing efforts helped 432 residents sign up for the curbside glass recycling program, as well as saved 608 people between $39 and $87 on their annual garbage bill by downsizing the size of their trash can. These glass signups will help to divert thousands of pounds of glass from entering our Salt Lake County landfills each year.
For this year's outreach campaign, we started using a mobile app so to be 99% paperless, which has proved to be not only the right choice environmentally, but also convenience-wise. With our mobile app, signing up for glass recycling and/or downsizing one's garbage is as swift as the tap of a button!
However, going door-to-door in a city like Salt Lake isn't always easy. Hilly streets, uninterested and even annoyed homeowners (sorry we caught you at a bad time!), extreme heat and bad air quality days are all barriers to a productive day. Despite the periodic struggles, the Community Outreach Specialist Team is too passionate about solidifying glass recycling as a normalcy in our community to let these obstacles stand in their way!
How to encourage your neighbor to recycle their glass: remember to highlight not only the benefits they will receive, but the good they will be doing for the local community as well. Because it's a service that will make their lives easier, but at the end of the day, their commitment to recycling glass creates jobs, saves money, and reduces pollution in our community. If there's one thing we have learned from going door-to-door, it's that residents don't like to pay for something that's not absolutely necessary. But here's the catch: when homeowners downsize their garbage bin, the savings they receive can actually more than offset the price of the curbside service!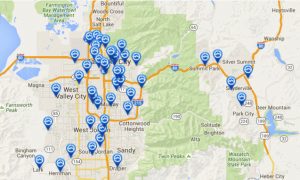 However, if your neighbor still isn't sold on the convenience of their own bin, make sure to emphasize that they can still recycle their glass for free. Direct them to any number of our public drop-off locations, where they can find the location closest to their home, on their commute, or even on a lazy day at the park.
Here at Momentum Recycling, we strive to be at the forefront of both operations and outreach. Although canvassing has proven successful, we are always open to suggestions for alternative methods of spreading the word on glass recycling. Moreover, we're working on bringing a few new ideas to fruition that will be sure to wow you. Stay tuned for updates!
Want to get involved? – – Great!  Please check out our jobs + opportunities for more info.
https://utah.momentumrecycling.com/wp-content/uploads/2016/01/4-Residential-Services.jpg
730
730
Momentum
https://utah.momentumrecycling.com/wp-content/uploads/2018/12/Momentum-Logo-2018.png
Momentum
2017-12-05 14:19:07
2017-12-05 14:22:32
Community Outreach Summary 2017
The below article was written by Momentum Recycling "Amglassador" Ryan Goforth:
The Future of Landfills along the Wasatch Front
             One of the most commonly thrown around statistics about the Salt Lake Metropolitan area is that the population is supposed to double in the next 50 years. What does this mean for the residents of the Wasatch Front? It means that more energy and natural resources will be needed to support this population, as well as more goods and services. Which means that residents of this area will consume more and inevitably produce a lot more waste. This could end up being a problem for residents all along the Front because the landfills we currently use will be at capacity in the very near future.
Let's start with the Salt Lake Valley Landfill, which coincidentally has about 50 years left until it is full. However, this 50-year estimate does not take into consideration that the Wasatch Front population is expected to double in that same time. When that happens, residents will have a very expensive problem to fix for a couple of reasons. To start, landfills are not cheap, they cost taxpayers millions of dollars to start and run. Another reason is that in 50 years, we won't have room to put a landfill anywhere along the Wasatch Front. This will translate into much higher costs on us to transport waste further away to a new landfill. This will raise huge problems for the future of where we take our trash perhaps sooner than 50 years from now. The Salt Lake Valley Landfill isn't the only one along the Wasatch Front, however.
The Trans-Jordan Landfill and Wasatch Integrated Landfill are two other major places our trash goes in the Salt Lake area. These landfills are much closer to the end of their life as each one only has about 15 years left. So what happens in 15 years when these landfills can no longer accept trash? Most likely that trash will go to the Salt Lake Valley Landfill, further decreasing the amount of time it will last. It is not all doom and gloom, however; there are easy ways to increase the life of our landfills.
60% of our waste is recyclable. Utah residents need to get to that number. If we could get to 60 percent recycled waste and maybe even higher as the City invests in recycling methods, we could dramatically increase the life of our landfills. This would save Utah taxpayers vast amounts of money in the long run and would conserve important natural resources.
https://utah.momentumrecycling.com/wp-content/uploads/2016/08/Landfill-Salt-Lake-County.png
969
1290
Momentum
https://utah.momentumrecycling.com/wp-content/uploads/2018/12/Momentum-Logo-2018.png
Momentum
2016-08-10 13:53:49
2016-08-10 13:55:36
The Future of Landfills Along the Wasatch Front