In 2008 Momentum Recycling was founded with the goal of helping communities move towards zero waste. While this may seem like a daunting goal, we believe that together, by taking small but important steps, we can make great progress. Momentum Recycling is a full-service zero waste company offering comprehensive recycling collection services to organizations and residences along the Wasatch Front.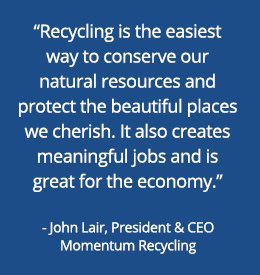 LOCATION:  658 South 4050 West, Salt Lake City, UT 84104
Momentum provides collection services for glass, mixed recyclables and green waste (fruit and vegetable residuals and yard waste), and we deliver materials to responsible material recovery facilities or end users in the Salt Lake Valley. To complement our collection services, Momentum Recycling organizations maximize recycling efforts by identifying the recyclable materials in their waste streams through comprehensive waste audits. We then design low-impact and intuitive systems for capturing these recyclables and offer consulting on purchasing and material use practices. This results in more materials being diverted from the landfill to recycling destinations.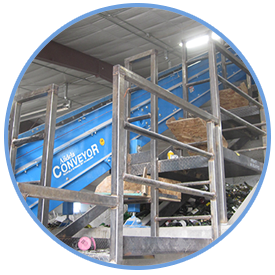 Momentum Recycling expanded its operations in 2012 to include processing and recycling of post-consumer glass. The company's state-of-the-art glass processing facility makes glass recycling easier, maximizes the diversion of glass from the landfill, and ensures that glass is recycled into high-quality end products. As of July 2012, Momentum Recycling became the exclusive glass recycler for Salt Lake City. This includes operating the first curbside glass collections program in Utah, and the processing of all glass collected through the city's various programs.
Momentum Recycling helps clients educate employees, clients, residents and guests about what can be recycled, how to recycle and why recycling is important. All clients receive unique quarterly diversion rate reports. These reports deliver monthly weight and volume estimates for the materials collected at the client's location, as well as feedback on contamination and recommendations for changes to service. From clear and effective signage on bins, to newsletters, to short informational sessions in the workplace, Momentum Recycling uses a wide array of tools to educate clients on recycling issues.
Momentum Recycling promotes clients' recycling efforts in the greater community through our social media channels and in client profiles highlighting their hard work and leadership in recycling. Momentum also provides free signage for clients to post at their locations conveying their waste diversion efforts.